Walling is mainly used to enclose a habitable space in the house or the property boundaries.
There are various materials that can be used, with each having its onw costs, advantages and disadvantages as shown below.
1.
Masonry walling.
Masonry stones are rapidly becoming expensive as the quarries continue to dry up in Juja and Kilifi. A machine cut stone is currently going for kes 60 per piece, bringing the cost per m2 to kes 800 for stone only and kes 250 for joining cement motar, totaling kes 1050 per m2.
This requires an expensive reinforced concrete foundation that can withstand the heavy self weight of stone , at 10kn/mm2 per 3m length of walling.

2. Stabilised soil block walling.
This is made form compressed red soil mixed with cement. It requires careful quality control to check the mixes and curing. Simple mistakes will result in the stones crumbling from elements of weather such as rain.
Protection from elements of weather is necessary, through roof overhangs and copings.
Cost per m2 is around kes 600.
Cement plaster covering is necessary to ensure the wall is weather proof from rain and sun. Assuming kes 400 to plaster both sides, this totals to kes 1000 per m2.
3. Earthbag walling.
This is made of soil filled in to polypropylene gunny bags.
The cost per m2 is as below
Cost of labour per bag is kes 30. Cost of bag is kes 20. Total cost is kes 50 per bag. This brings out to kes 500 per m2 for walling.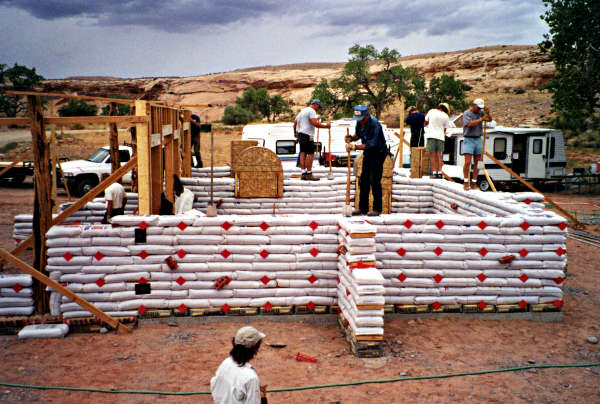 These will need plaster on both sides to protect the polypropylene bags from UV rays from the sun. Assuming kes 400 per m2 to plaster both sides, this totals to kes 900 per m2, which is lower than cost of stones and stabilised soil blocks.
Francis Gichuhi Kamau, Architect.
0721410684.
info@a4architect.com