Scaffolding is the structure that workers use for support as they work on high rise buildings.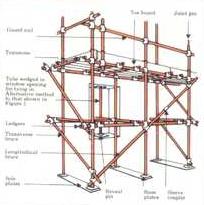 Some scaffolding types are made of aluminium, especially for light works where movable scaffolding is required, eg painting on ceilings.
For heavy builders works, steel scaffolding is used.
Hire or Buy.
For shorter span works, its advisable to hire the scaffolds. For longer term works, over 6 months long, its advisable to buy the scaffold. Specialized scaffolding suppliers have the expertise to erect the scaffolds and assist in moving and dismantling them.
Small time construction works in Kenya use blue gum poles scaffolding of which its becoming unsustainable environmentally, plus increased timber costs, hence the need to move to steel. Same situation is happening in the roofing structure industry whereby steel roof structures are now more feasible than timber roof structures.
Formwork.
Formwork for concreting is now also coming in form of steel panels, supported by steel scaffold.
The Kenyan construction industry landscape is unfolding towards modernized formwork and scaffolding methods that are cost friendly and last longer than the traditional wooden types.
Architect Francis Gichuhi Kamau.
info@a4architect.com