Kigali Batsinda Estate lies 6 km from the heart of Kigali Central Business District. It comprises of  high rise apartments, 300 units in number. Below is an outline of how such huge projects get conceived from an idea into actualization. It takes years and a lot of hard work and thought processes in the background before construction commences. Just like the Chinese bamboo shoot grows, the seedling takes 4 years to germinate from the ground then takes a few months to grow into a huge monster of over 30 meters long.
Initial discussion.
Concept beginning.
The land owner emailed a4architect.com on 24th March 2011.
In the email, Philippe asks a4architect.com to assist in design and financial planning for his 4 hectare land in Kigali based on the Greenville Estate project designed by a4architect.com. Coincidentally, Greenville estate was a Joint Venture project conceived, designed and implemented by a4architect.com in Syokimau, Nairobi. In Greenville estate, a4architect.com conceived the idea concept and sold the idea to Munyua Kariuki Advocate, Deus Properties and Businessman Edward Magero. The rest of the financing was sought from Housing Finance Bank and construction began and the units sold off.
a4architect.com replied and assured that they can provide design services and refereed the land owner to Shelter Afrique Bank, introducing to him the concept of Joint Venture financing as opposed to the usual bank loan.

A4architect.com then went ahead to introduce Shelter Afrique Bank, represented by Samson Murithi in Nairobi and Oumar Diop in Kigali.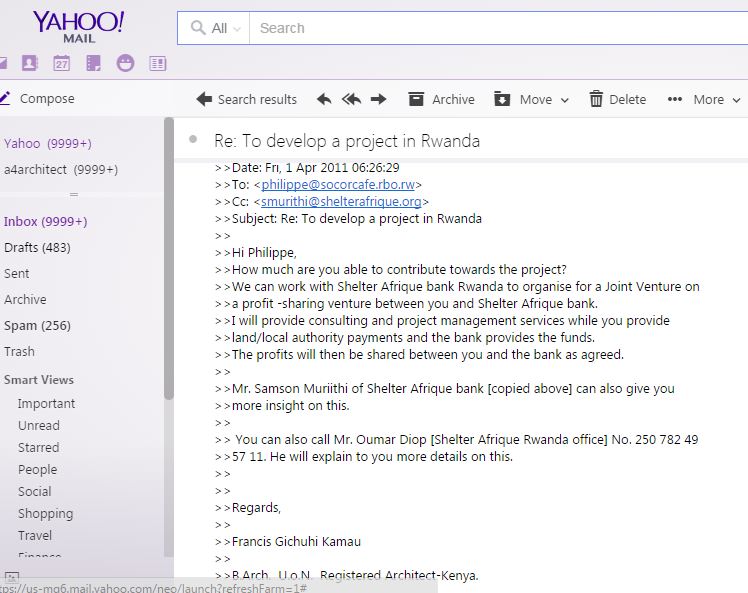 As expected, most land owners when introduced to the Joint Venture concept naturally want to know more about it.A4architect.com encouraged the land owner to talk to Shelter Afrique Kigali representative, Mr Oumar Diop so that he can understand much more and gain confidence in order to proceed.

At that time, Shelter Afrique bank had just started the new concept of Joint Venture and were apprehensive of Rwanda market and initially wanted to watch the Kenyan market evolve first.

Many years later, to currently, in 2016, Shelter Afrique bank later on learnt and got the confidence to delve in Joint Ventures outside Kenya and finally financed the project.
We will continue on more details on how Joint Ventures get financed and how Mega projects come into being from the inception in the next article.
Architect Francis Gichuhi Kamau.