Swimming pools that are standard to be sued for competitions are constructed with a length of 25m and a width that varies depending on the number of lanes.A 4 lane pool is 8.5m wide and an 8 lane pool is 17m wide.
Olympic size pools are 50m in length and 25m wide, with 8 lanes maximum.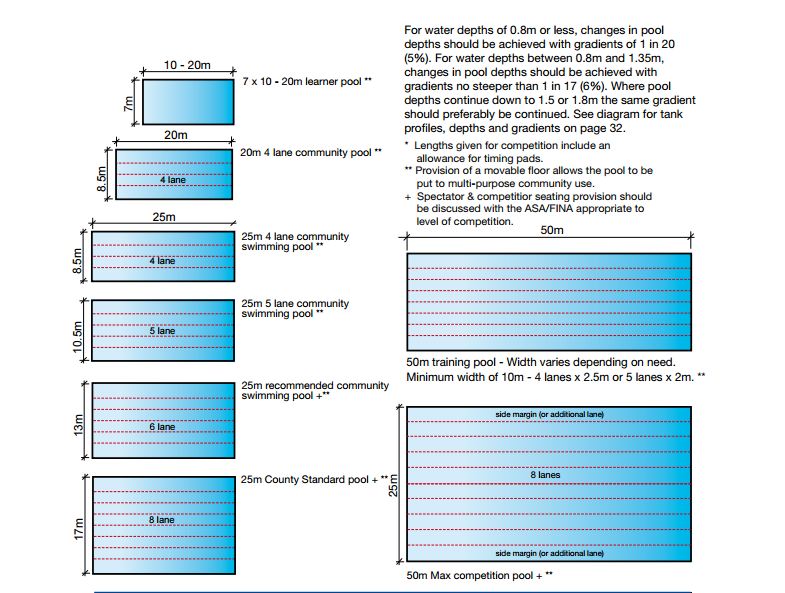 Spectator seating capacity.
Spectator seating arrangement is raised such that the seats behind in the row are at least 1 m higher than the front row to enable all spectators have an uninterrupted line of vision to the pool activity.
Ample space should be created for wheel chair access , preferably at the lower levels of the spectator stands.
Spectator seats can be constructed using concrete and wood laminate surface finishing.
Others can have individual plastic seats with back rest fuffted on a steel or concrete support structure.
The area below the seats that has been raised to achieve the line of vision can be used as storage space or changing rooms.
Large Olympic size pools that are 50m long and have 8 lanes should ideally have a seating capacity of 400 people and a further 300 people from the competitor side.
Swimming pools that are 25 m long with 6 lane capacity should ideally fit in 150 people and a further 150 more on the competitor side.
Architect Francis Gichuhi Kamau.
info@a4architect.com