LED XMas Snake lights are flexible lights that can be curved into various shapes for outdoor and indoor decoration.
These come in various types.
Multi colour vs Single colour.
Multicolour lights have the capacity to have various light colours and play around with a predetermined pattern as set in the adaptor box.
Single colour lights have just one colour .
Width of the snake light.
The light strip width can vary from between 1 to 3mm. The wider it is, the more expensive.
Others have 2 or 3 strips within the main light strip.
Fixing.
Use of silicon adhesive or double sided stickers is good for installation. Use of hooks bolted into the wall surface is also a good way of fastening to the wall.
These lights can be arranged into different patterns depending on the desired outlook.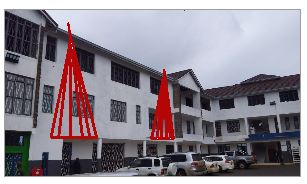 Email info@a4architect.com or call 0721410684 for installation guidelines and costs.