Joint Venture Projects Analysis in Kenya. Small vs Large project comparison.
Joint Venture financing within the construction and real estate industry is an innovative method of financing construction projects. There are 2 main partners, land owner and the financier.
The land owner mainly contributes unencumbered land into the whole deal while the financier comes up with funds to construct the real estate.
Land comprises 15 to 30% of the cost of any real estate development, hence the need for financiers to team up with land owners to gain the much needed few steps ahead head start in the race, compared to them setting their budgets aback in purchasing land then developing. Land owners also gain in the symbiotic relationship in that apart from land contribution, they can sit back and wait for the construction to complete then gain the profits in terms of rentable built up area or saleable property compared to just vacant land.
Land owners on average gain from a 30 to 100% and beyond return on investment. Financiers gain from a 30 to 60%  and beyond return on investment.
The average return on investment for real estate in the USA is 10%, meaning that the Nairobi real estate joint venture returns are very profitable.
http://www.investopedia.com/ask/answers/060415/what-average-annual-return-typical-long-term-investment-real-estate-sector.asp
Same case with India, but slightly higher.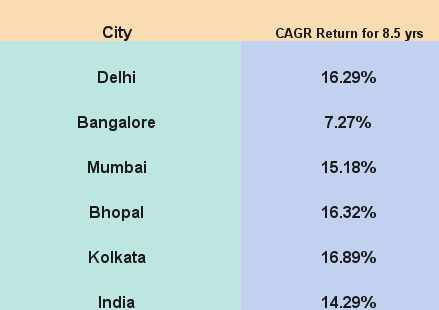 Sale ability.
Most joint venture projects are targeted towards the sale market which has better returns on investments compared to the rental market. Financiers put in their funds with an exit plan of 2 to 3 years through sale of the building units to 3rd parties in the open market. This way they are guaranteed of a good return on their investment, with a minimum of 20% return guarantee. Land owners on the other hand can also sell off their share of the units or opt to rent out their units or a mixture of both.
Size.
Most financiers in the Kenyan market seek large lands where there is a possibility of constructing buildings worth at least kes 1 billion and above. This is due to the economies of scale. The same effort that is put in into a 1/8th acre at Rongai with 1 unit is nearly the same effort put in to a 10 acre land in Syokimau with 1000 units. Therefore, its preferable for larger lands over smaller parcels though smaller parcels can also give the same return on investment in joint ventures. Currently, all financiers in Kenya are in the preference for larger lands over the smaller parcels. With time, as more financiers enter the market, and the joint venture concept is streamlined, we will see individuals who have savings coming up as financiers, teaming up with land owners to do joint ventures all around the country.
Off plan sales are a fool proof method of testing the market to see if it can absorb the units for sale before monetary commitment into construction.
Feasibility.
Joint Ventures are very sensitive to salability of the units. There is need for very rigorous feasibility studies to ascertain and establish the sale market for the area before construction commences. No financier will want to be tied up with their funds tied up in a construction project that is not selling well. The closer to a major CBD or tarmac road, the better the chances of sale, hence lands located in prime areas are most suitable for joint ventures.
The highest land value is located at the center of Nairobi CBD. This focal point marks the point at which land value starts its downward trend towards the outskirts of CBD, from the range of kes 600milion an acre in CBD  all the way down to kes 1 million an acre in Kamulu.
The land closest to the CDB has the highest return on investment and the lowest risk in terms of investment, as in, whatever built up area is constructed and offered to the sale market, it will find buyers. This salability decreases further all the way to Kamulu and its environs, 40 km from the cbd epicenter, where the saleability is decreased, with the risk of not getting a buyer highest.
This has resulted in the high rise structures we see dotting the Nairobi skyline. Currently, we are now in the range of 30 to 50 storey buildings coming up around Nairobi cbd, Westlands, Upper Hill as developers tend to get as close as possible to the epicenter where sales are 100% guaranteed.
This demand for prime locations push land prices up and keeps out smaller financiers from accessing these markets, hence only large financiers. My prediction is that the smaller financiers will take the opportunity and move to areas further away from the cbd as they try to gain a piece of the pie too.
Comparison between 10 acres Syokimau and 1/8th acre Rongai Joint Venture.
| | | |
| --- | --- | --- |
| | | |
| Comparison. | 10 acres Syokimau | 1/8th acre Rongai |
| | | |
| Land owner contribution | 600,000,000.00 | 2,000,000.00 |
| | | |
| Financier contribution | 4,310,596,550.00 | 3,997,500.00 |
| | | |
| Total project cost | 4,910,596,550.00 | 5,997,500.00 |
| | | |
| Return on investment | | |
| | | |
| R.O.I for Land owner % |                                       105.90 |                                                37.56 |
| | | |
| R. O.I for Financier % | 26.83 |                                                31.55 |
| | | |
| Land owner take home amount |                   1,235,386,725.00 |                                  2,751,250.00 |
| | | |
| Financier take home amount | 1,156,323,300.00 |                                  1,261,250.00 |
| | | |
| | | |
From the above comparison, the larger the land, the more beneficial the joint venture is to the land owner, hence very attractive. The larger the land, the higher the returns for the financier too.
Negotiating JV sharing deals.
Land owner can negotiate for a % of the limited liability company special vehicle . The average % given to land owners in most scenarios range from between 20 to 40% depending on calculations.
The calculations can be derived after adding up all costs and spliting the profit at an agreed rate, usually 50-50.
Lands located closest to the CBD have very high R.O.I. Land owners on average get over 100% R.O.I on lands around CBD eg Westlands, Upper Hill, Kilimani etc. Financiers in this areas also get an average of 60% R.O.I.
Lands located furthest from CBD eg Rongai have R.O.I at 30 to 40% for land owners and Financiers. All other lands have their R.O.I fall in between these two extreme points.
Architect Francis Gichuhi Kamau.
0721410684