Cement in Kenya is available in strengths varying from 32.5, 42.5, 52.5 and 60. This describes the strength that the cement should provide after 28 days after casting.
Structural engineering design of the concrete mix further ensures that the concrete strength that is needed is eventually achieved through the mix ratios of cement, sand and gravel.
Cement is also classified as N for Normal curing time and R for Rapid curing time. The classification is clearly labeled on the cement bag.

On the Dangote cement bag above, you can see the 42.5 R marking classification meaning the strength is 42.5 and its rapid curing.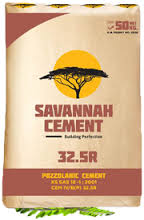 The Savannah cement bag above shows its a strength of 32.5 and Rapid curing.
Supply.
A4architect.com can supply Savannah cement in bulk to developers all over Kenya at wholesale prices.
Architect Francis Gichuhi kamau.
info@a4architect.com