Kiserian project.
The project is located at the below location.
https://www.google.co.ke/maps/myplaces?hl=en&ll=-1.42749,36.691455&spn=0.003035,0.005284&ctz=-180&t=h&z=18

There will be 40 rental rooms to be let out for commercial activities within a 1/4 acre land fronting tarmac at Kiserian town.
Here is the lease document.
Investment can be in multiples of number of rooms. Each room costs kes 80,000. Investors can invest a minimum of 1 room and a maximum of 40 rooms. Returns are as below spreadsheet.
Floor plan layout.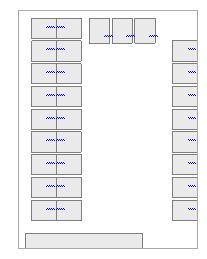 Bank financing options.
For those who intend to borrow, assuming 12% annual bank interest rate, 1 room will attract a monthly revenue of kes 3100-kes 750=KES 2,350.
One room investment is kes 80,000. Borrowing kes 80,000 will attract kes 2,342 monthly repayment for 3.5 years as per below coop bank calculator.
http://www.co-opbank.co.ke/index.php/loan-calculator
This means that after 3.5 years, the loan will be fully re payed from the room revenue . The rest of the 1.5 years remaining in the lease can be enjoyed as full profit. If the lease is further renewed for 5 more years, the profit enjoyed will be monthly rental revenue for 6.5 years. If the lease is not renewed, the building materials can be transported to another leased site for the profits to remain the same.
Contact info@a4architect.com or 0721410684 for more info.
| | | |
| --- | --- | --- |
| | | |
| | | |
| RENT PER ROOM. Monthly | | 3100 |
| | | |
| RENT FOR 40 ROOMS Monthly | |          124,000.00 |
| | | |
| ANNUAL RENT | |       1,488,000.00 |
| | | |
| RENT MINUS LEASE Payment | |       1,128,000.00 |
| | | |
| LEASE Payment PER YR | |          360,000.00 |
| | | |
| CONSTRUCTION COST 40 ROOMS | |       3,200,000.00 |
| | | |
| RETURN ON INVESTMENT. YEARS | | 2.8369 |
| | | |
| | | |
| PROFIT. YEARS | | 2.1631 |
| | | |
| PROFIT FOR 2.1 YEARS | |       3,218,723.40 |
| | | |
| Profit per room | |            28,200.00 |
| | | |
| Investment per room | |            80,000.00 |
| | | |
| | | |